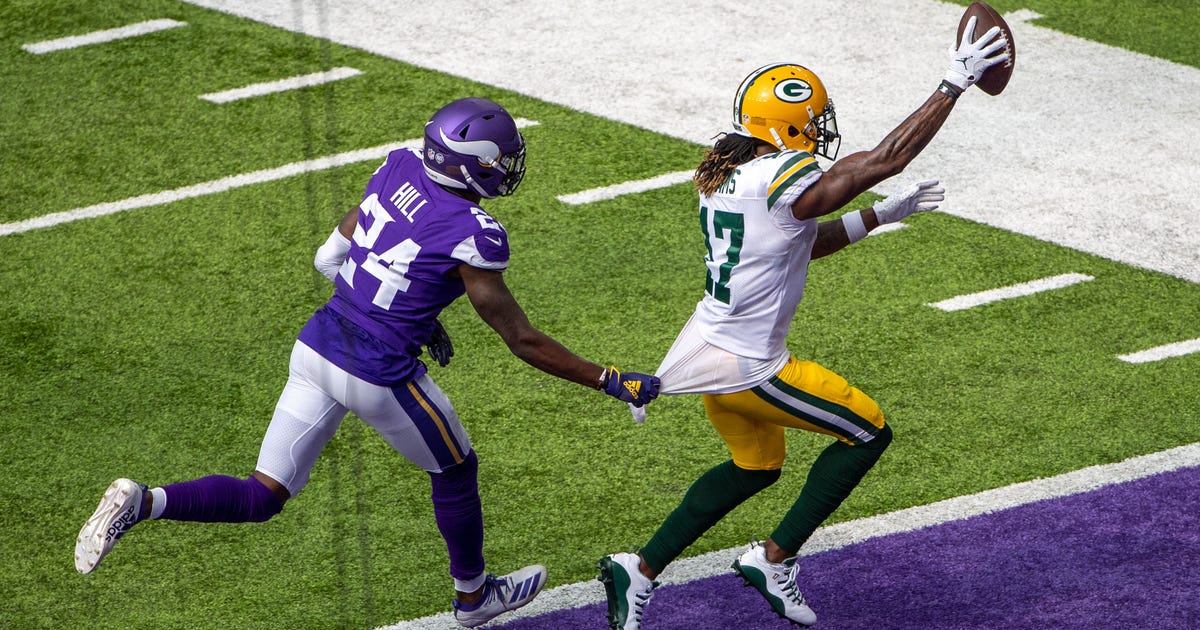 The Minnesota Vikings new-look secondary made its debut against the Green Bay Packers on Sunday at U. S. Bank Stadium and the Vikings' young cornerbacks showed their age in a 43-34 defeat.
Minnesota mainly played Cam Dantzler, Holton Hill and Mike Hughes on the perimeter, all of whom are 23 years old or younger. Dantzler, selected in the third round of the 2020 draft, led the way in his first NFL game by playing 82% of the Vikings' defensive snaps, followed by Hill at 76% and Hughes at 74%. Jeff Gladney, one of the Vikings' two first-round picks this year, played nine defensive snaps (12%) in his NFL debut.
More Vikings coverage
Statistically, Hill had the best game with seven solo tackles and a pass defensed.
With relatively green cornerbacks to prey on, Green Bay quarterback Aaron Rodgers had a field day. The Discount Double Checks were aplenty as Rodgers completed 73% of his passes (32-44) for 364 passing yards and four touchdowns. Furthermore, Packers receiver Davante Adams hauled in 14 passes for 156 yards and two scores.
Not exactly the quarterback-wide receiver duo a young defensive backfield wants to face to begin a season.
Other notes from Sunday's snap counts:
— Newly acquired defensive end Yannick Ngakoue got 44 snaps on defense (56%) in his first game with the Vikings. He did not register a tackle on Sunday but did get a quarterback hit.
— Minnesota's other first-round rookie Justin Jefferson got 69% of the offensive snaps and finished with three targets and two catches for 26 yards. He had three more snaps than Bisi Johnson.
— Kirk Cousins and the entire starting offensive line of Riley Reiff, Dakota Dozier, Garrett Bradbury, Pat Elflein and Brian O'Neill played al 52 of Minnesota's offensive plays. Veteran defenders Anthony Harris, Harrison Smith, Eric Kendricks and Anthony Barr were on the field for all of the defensive snaps.
— Tight ends say plenty of action as Kyle Rudolph played 32 snaps (62%) and Irv Smith 31 (60%).
— Ifeadi Odenigbo, filling in for the injured Danielle Hunter, had 60 snaps (77%). However, he didn't record a single tackle.
WEEK 1 – VS. PACKERS (OFFENSE)
| | | |
| --- | --- | --- |
| PLAYER | PLAYS (52) | % |
| Cousins | 52 | 100% |
| Reiff | 52 | 100% |
| Dozier | 52 | 100% |
| Bradbury | 52 | 100% |
| Elflein | 52 | 100% |
| O'Neill | 52 | 100% |
| Thielen | 50 | 96% |
| Jefferson | 36 | 69% |
| Johnson | 33 | 63% |
| Rudolph | 32 | 62% |
| Smith | 31 | 60% |
| Cook | 30 | 58% |
| Mattison | 19 | 37% |
| Ham | 12 | 23% |
| Conklin | 8 | 15% |
| Sharpe | 7 | 13% |
| Abdullah | 2 | 4% |
WEEK 1 – VS. PACKERS (DEFENSE)
| | | |
| --- | --- | --- |
| PLAYER | PLAYS (78) | % |
| Harris | 78 | 100% |
| Smith | 78 | 100% |
| Barr | 78 | 100% |
| Kendricks | 78 | 100% |
| Dantzler | 64 | 82% |
| Odenigbo | 60 | 77% |
| Hill | 59 | 76% |
| Hughes | 58 | 74% |
| Johnson | 57 | 73% |
| Stephen | 52 | 67% |
| Ngakoue | 44 | 56% |
| Wilson | 44 | 56% |
| Watts | 37 | 47% |
| Holmes | 30 | 38% |
| Yarbrough | 22 | 28% |
| Mata'afa | 10 | 13% |
| Gladney | 9 | 12% |